So you can't draw a stick figure or a straight line?  When you draw, does it look like a mentally deranged monkey made your pencil vomit on the page? Do you have to write what you're suppose to draw on DRAW SOMETHING? Do you want to hang your head in shame because the three year old sitting next to you is drawing circles around you?
Well you've come to the right place.
By the time you finish the lessons below, you will be able to draw appealing drawings and characters. You won't be Michelangelo (the artist not the turtle), but you're not trying to be.
You'll be able to draw for the first time ever! And that's all these lessons are here to teach you.
It's that three year old's turn to hang his head in shame! <= CLICK TO TWEET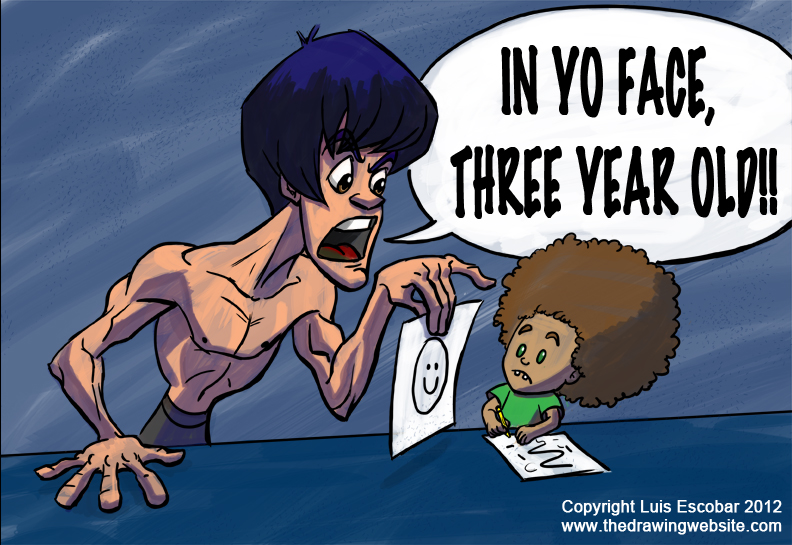 So Let's Get Our Draw Fu On!
Click on the highlighted text below to go to the posts:
Choose Your Practice Weapons: What drawing equipment you need for now.
Lesson 1: How drawing is like writing – The A, B, Cs -Lines.
Lesson 2: How drawing is like writing – Sentences, Basic Shapes
Lesson 3: Basic design: Stick figures, with style!
Lesson 4: The Secret of Tracing like a Pro – Basic under drawing techniques.
Lesson 5: Design Simple Cartoon Characters from Flat Shapes
BONUS Lesson 6: Unicorn Style – How Simple Color Theory Helps Design.
BONUS Lesson 7: Designing Super Basic Composition
BONUS Lesson 8: Formulas – An Introduction to Drawing Shorthand
Get all this info and more in The Art of Draw Fu: Beginners Level digital book for FREE!
If you're ready to get started now, you may want to invest in the Draw Fu Beginner's bundles. Either the DELUXE BUNDLE or the REGULAR BUNDLE. Each Bundle comes with some very special UNIQUE items.
Resources/books:
Questions?
I can't help you if you don't ask.
What's your burning drawing questions?
Is there something you've always wanted to know about drawing? Ask.
I'll give you my best answer and, who know,  probably write a post about it.
Leave any comments and questions in the comments below.
Or better yet, sign up to receive more information via e-mail. You'll get extra tips and advice.  You can ask me questions that way also.