Welcome to the beginning of the Level 1 Lessons. Hopefully you've read the Level 0 Lessons and are ready for the next step. If you haven't, I encourage you to go through the Level 0 Lessons, that way, you're sure not to have missed anything.
The Level 1 Lessons are meant to build upon the foundations laid down by the previous lessons.
You now know you can draw.  Drawing is not hard, BUT drawing well, is.
You're here because you want to start drawing better.
To help you do this, the Level 1 lessons will focus on creating cartoons.
What do I mean by cartoons?
By cartoons I mean characters that range from any kind of lighthearted comic strip to funny animated cartoon characters. From simple comic strips like The Far Side, and The Oatmeal, to Looney Tunes style and even Disney Style.
What I DON'T mean is more naturalistic cartoons like Superman, Batman, or Terry and the Pirates. They belong to a more complex form of cartooning that I'll cover in Level 2.
Why cartoons?
The Reasons You Should Draw Cartoons
There are plenty of excuses not to draw. You might think drawing is too hard. Maybe you can't even fathom creating things from your imagination. How do you even start? What should you do? Perhaps you think that whatever you create will be no good, or too dull.
Drawing cartoons are the solution to these problems.
By the time we're done talking about cartooning, you'll know how you can take cartooning and springboard it to the next level.
Yet, drawing cartoons is a goal in itself. You can be very happy only drawing cartoons without the need to move further.
That said, here's three reasons cartooning will help you reach a higher level of drawing:
Cartooning is an Easy Win
When it comes to cartooning, there really isn't a "right" way. There might be appealing or less appealing cartoons, but there really isn't a "right" cartoon.
There really is just YOUR way of drawing cartoons. That said, it's possible you may not LIKE your way. That's okay, that's why I gave you the design lessons in Lesson 3 and 5 in the Level 0 Lessons. It's so you can practice coming up with a cartoon style you're proud of.
Still, there really isn't a way to "fail cartooning."
Because there's no way to fail, it makes you more confident in yourself. It helps your skills move forward as you draw more and more.
The more you draw, the more you learn. The more you learn the more you experiment.
Soon, you'll start trying different styles of cartoons. Which of course, will teach you even more about drawing.
It's a win win. You simply can't go wrong with cartoons.
Comfort Drawing From Your Imagination
I get asked this a lot,
"How do I draw from my imagination? I can draw what I see pretty well, but when I draw something from my head, it looks awful."
Drawing from observation and drawing from your imagination are actually two different but complimentary skills. You can be good at one but not the other.
This is actually why I recommend cartooning. Because it's such an easy win, you can learn to draw from your imagination without any pressure.
It's really difficult to wrap your head around drawing from your imagination. Where do you start? The eyes, the head?
By drawing cartoons, you can take the guess work out of the process in small bite sized chunks. You can learn one simple style of cartooning, then another slightly more complex style, then more complex, etc.
Soon your cartoons can be very complex and you'll be perfectly comfortable drawing in that style. Drawing from you're imagination will become second nature.
Cartooning is a fun, easy way to learn to draw from your head.
Versatility
Cartooning makes you a more versatile draftsman. More so than if you specialize in drawing naturalistic drawings.
This will become more apparent as you develop you draftsmanship skills. At first the cartoons will be so simple that they can seem valueless. As you develop your skills, your cartoons will become more advanced and sophisticated.
This sophistication will make the transition between cartooning and naturalistic drawings much easier.
Not only that but when you combine your cartooning skills with great design, the world starts opening up. The exaggeration and clarity of cartooning becomes a very handy language.
Here's the interesting part though. Once you start going beyond cartooning and you begin to draw more naturalistic figures, suddenly everything you know about cartoons expands and informs your naturalistic drawing.
Style becomes easier. Expressions will become second nature. You're drawings will become more dynamic. In short, your drawing will become much more versatile.
I've seen plenty of artists who draw naturalistic and can't draw cartoons. Many of these artist's artwork is really stiff and rigid and they can only draw in one style.
Had they started with cartoons first, they wouldn't have had this problem. Cartooning gives a draftsman a greater visual vocabulary to draw upon.
So if you're ready to begin…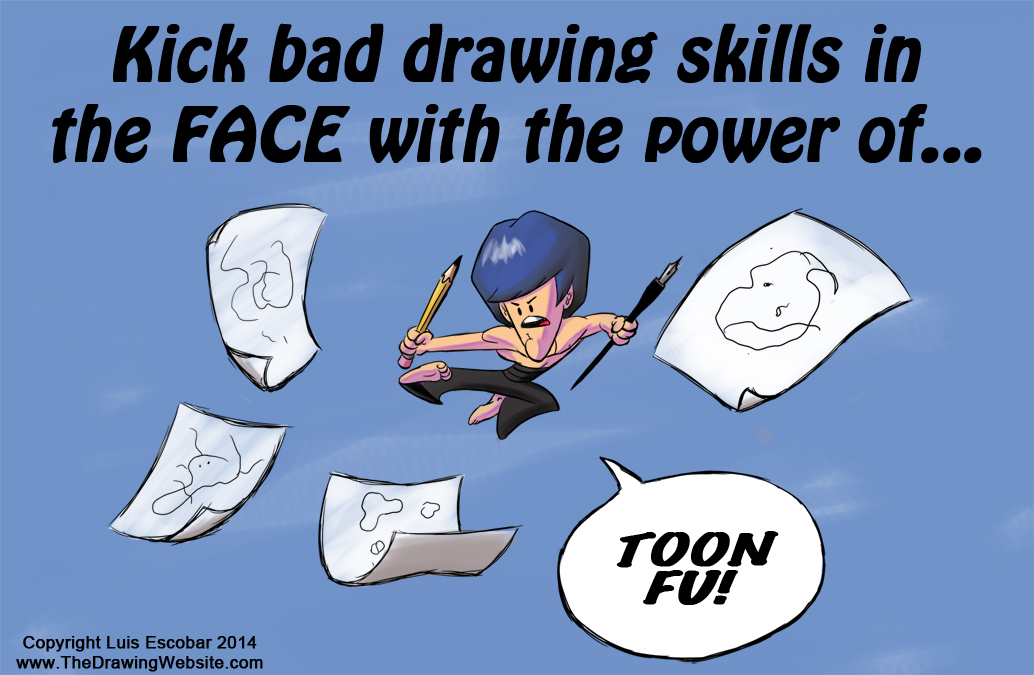 Let's get our Toon Fu On!
The Secret of the Draw Fu Arsenal – Drawing Supplies 
Lesson 1: Draw Fu Perspective Secrets – The 5 Principles You Should Know
Lesson 2: Practicing Your Draw Fu Forms
Lesson 3: The Key to Flow, Power and Dynamism – Mastering Gesture
Lesson 4: Making  Your Cartoons Look Professional – Cartooning Design
Lesson 6: Monkey Style Draw Fu – Copying
Lesson 7: Dynamic Picture Making and Environments
Lesson 9: Color Like a Pro: Hue and Saturation
BONUS
Cartoon Features and Parts Formulas
Leg Formulas  (COMING SOON)
Feet Formulas  (COMING SOON)
Clothes Formulas  (COMING SOON)
RESOURCES/BOOKS:
If you want to read the Lessons before anyone else, sign up to receive the NEWSLETTER.  I'm releasing the Lessons there in small bite sized chunks first before I post them in their entirety on the blog for everyone to read.